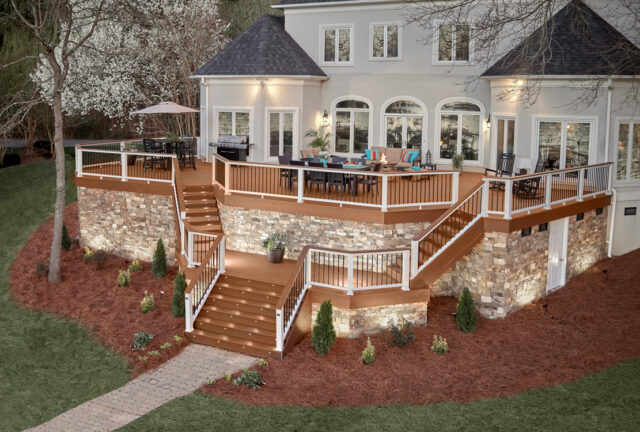 Renovating a home deck can be an exciting, yet daunting task. It's important to keep in mind the right steps and materials to ensure your project turns out just how you envision it.
In this article, we'll explore three key things to consider when renovating your home deck – giving you peace of mind that your vision will become a reality.
From choosing the right type of wood for durability to considering the best options for railing materials and designs – several factors go into creating a beautiful outdoor space that is sure to last for years to come.
So let's get started on Renovating Right!
Safety First
Safety should always be the top priority when renovating a home deck. Before beginning any work, it is important to take into account local building codes and safety regulations that must be met while constructing your outdoor living space.
Make sure all posts and footings are of proper materials such as pressure-treated lumber or concrete blocks; this will help ensure stability for years to come.
Additionally, check the condition of existing railings – if they show signs of wear or damage, replace them with new ones made from weather-resistant material such as cedar or redwood.
Finally, use corrosion-resistant hardware for bolts & screws to provide extra strength and support during construction – this step can't be overlooked!
By taking these steps before starting on a deck renovation project, homeowners can rest assured knowing their deck will remain safe season after season
Budgeting for Your Deck Renovation
Budgeting for your deck renovation is an important factor to consider when planning any home improvement project.
To ensure that you get the most out of your money, create a budget and stick to it. Start by researching the average costs of materials in your area; this will give you an idea of how much you need to spend on wood, tools, hardware, and other supplies.
Consider quality over quantity as well – investing in durable materials can help extend the life of your new deck without needing additional repairs or replacements down the line.
Additionally, make sure to factor in labor costs too – hiring a contractor who specializes in decks can help ensure that construction meets code requirements specific to outdoor living spaces and is completed safely and efficiently.
With these considerations taken into account during budgeting for a deck renovation project, homeowners can feel confident knowing they have allocated enough resources for their dream outdoor space to come true!
Utilizing the Right Materials and Tools for Deck Renovation
When renovating a home deck, utilizing the right materials and tools is essential. Investing in high-quality products from reliable sources will save time and money in the long run.
Whether your project involves staining or painting, buying top-notch wood preservatives can help extend the life of your deck for years to come.
Additionally, investing in quality power tools, such as sanders and saws, makes any job easier by providing accuracy and control for even novice do-it-yourselfers.
Finally, don't forget basics like drop cloths and painter's tape – these are small details that go a long way towards ensuring success with any renovation project!
Conclusion
Renovating a home deck can be an exciting and rewarding experience, especially when the right steps are taken.
When considering a renovation of any kind, it's important to consider safety first, as decks may be exposed to water damage or other conditions that could make them unsafe for use.
Additionally, budgeting should also be kept in mind; high-quality materials from reputable deck companies will last long and require less maintenance over time than cheaper alternatives.
With these three things in mind – safety, budgeting, and quality – homeowners can rest assured that their newly renovated home deck will bring years of enjoyment with minimal hassle.