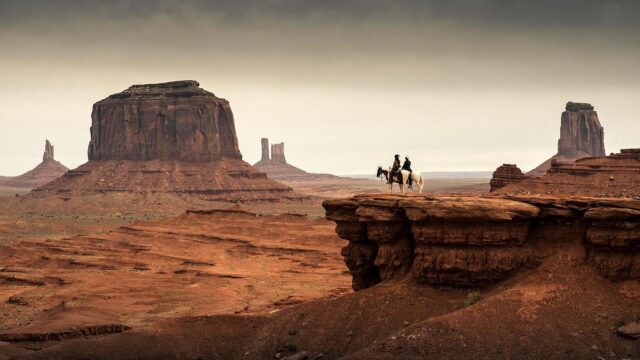 Western movies became popular back in the silent-film era and peaked during the 50s. Worldwide popularity began earlier, just after World War II and lasted until the late 60s. The main stars were John Wayne, Clint Eastwood, Gary Cooper, Kirk Douglas and many others. The popularity was so great that even the subgenre "Spaghetti western" appeared in Europe. The time when western movies were the so popular is long gone, but that doesn't mean you can't watch some great movies set at that era and filmed decades after peak. We will remind you of 4 modern western movies you need to rewatch this fall.
The Assassination of Jesse James by the Coward Robert Ford
The Assassination of Jesse James by the Coward Robert Ford is a true masterpiece. It could be said that this movie went unnoticed considering its quality. Although it received two Oscar nominations, that is not enough recognition. The plot of this movie is explained in its title, but the quality lies in acting, photography and music, above all. Brad Pitt, Casey Affleck and Sam Rockwell lead a fantastic cast, while the legendary Nick Cave is responsible for the mesmerizing original score. In the brilliant career of Roger Deakins, a cinematographer, it is difficult to single out the best film, but this one certainly enters the top 3. So start your list of modern western movies that you will watch again this fall with this timeless movie.
Hostiles
Christian Bale plays Capt. Joseph J. Blocker, a veteran of the Indian Wars, in this excellent film, directed by Scott Cooper. According to Scott Jason Cooper, the plot is set around 1892 and It begin with a Comanche war group attack on Rosalee Quaid played by Rosamund Pike. After that Capt. Joseph J. Blocker is hired to escort the Cheyenne chief and his family, and in front of them is very dangerous territory. This movie is so interesting and the actors are great, and be prepared that it is a slow burner.
Django Unchained
Is there anyone who doesn't like Quentin Tarantino's movies? Whether it's "Pulp Fiction," "Kill Bill," "Inglourious Basterds," or some other title, you're sure to love at least one of his films. He also tried his hand at the western genre and that's why we got "Django Unchained" and "The Hateful Eight". While both films are great, we singled out "Django Unchained" because Jamie Foxx, Christoph Waltz and Leonardo DiCaprio guarantee almost 3 hours of fun and plot that is only possible with Quentin Tarantino.
Dances with Wolves
Many movies unfairly carry the epithet "epic film" but Dances with Wolves is a real example of an epic film. Running time over 180 minutes, plot, actors and many other reasons contribute to the fact that this is a favorite movie of a large number of people. Kevin Costner excelled in his feature directorial debut, both as an actor and as a director.
Conclusion:
We have singled out these 4 films as classics of the modern Western genre, but they are certainly not the only ones. If you have time, see also "3:10 to Yuma", "The Revenant" and many others.